Hey, Gas Prices Ticking Up — Unexpectedly?
The miserable jobs numbers in June and recent GDP report this month aren't the only bad news for the U.S. and for the Obama Campaign.  Gas prices are creeping back up. Again.
Prices are lower in most states than they were a year ago, but given that the average state is hovering around the $3.54 mark right now according to EIA, that is not much of a consolation. Right now, Hawaii is topping the chart for regular at $4.148 with NY at $3.676 and CA $3.802. The lowest prices out there are in mainly Southern and Southeastern states. South Carolina was cheapest at $3.202. Other states with under national average prices were  Louisiana runs $3.327, Mississippi at $3.321 and New Mexico at $3.292.
The AAA report has the current average at $3.500 for regular. That's up from $3.486 a day ago and $3.477 a week ago. One month ago, the rate was $3.330.  Seventeen cents increase in one month. Ouch.
Where I live in NC, I have watched the prices tick up a few cents every 4 or so days. Our state average for regular now stands at $3.40, rounded.  It's $3.55 now around the corner from me. For perspective, here is a shot I snapped of the posted price at the same station around the corner back in on April 6th, 2012: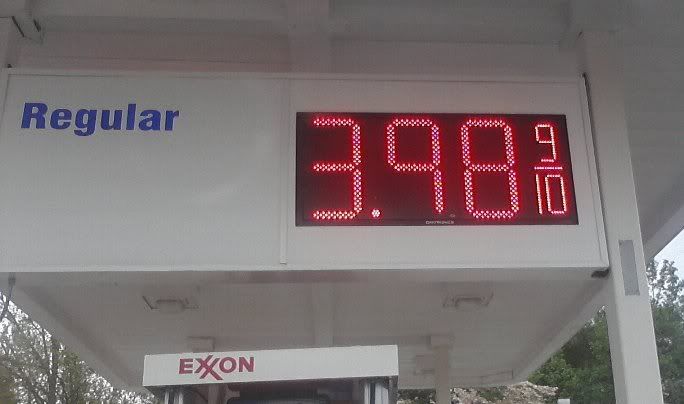 Shortlink:
Posted by
LL1885
on August 1, 2012.
Filed under
Bloggers
,
Energy
.
Tagged with:
gas prices
.
I'm a Conservative minded mother and wife living in the Triangle area of NC. I began writing in 2009 via my
LadyLiberty1885 blog
. My writing can also be found at
Carolina Right
,
BatShitCrazynews
and at
Wizbang
. I also write science fiction and children's novellas that are works in progress and unpublished as of yet.
You can leave a response or trackback to this entry